Jane Irwin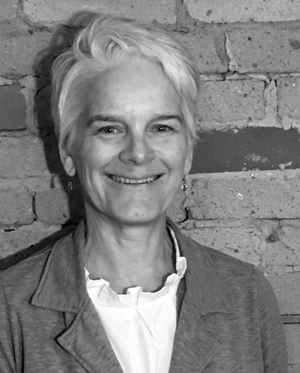 Jane Irwin received her BFA in drawing and painting from Mount Allison University, New Brunswick, in 1977. She has been a professional artist since 1980, creating commissioned glass artworks for specific sites, including churches, schools, public spaces, and private homes. Drawing and painting have always been integral parts of her artistic explorations. In these pieces, natural elements and found objects are often the starting point from which the works evolve. References to craft, textiles, and other inspirations can seep into this process. The end results present recognizable imagery that straddles the boundary between representation and abstraction, inviting contemplation of the elusive forms. "I often add to the mystery by scribbling, smudging, and tossing circular forms into the drawing, to include chaotic energy in my plans and to celebrate the act of drawing itself", she states.
Jane Irwin's work has been exhibited in Ontario and New Brunswick and she has been awarded grants from the Ontario Arts Council. Her commissioned glass installations can be found at sites in Ontario, Quebec, and New York State. She currently works from her studio in Toronto.
Contact the Gallery to inquire about the works below. For shipping inquiries please see our Shipping Policy.