Sanjeev Sivarulrasa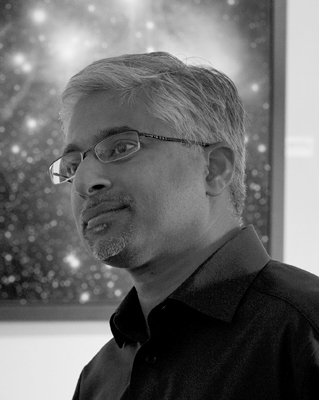 Born in Sri Lanka, Sanjeev Sivarulrasa holds an Hon. B.Arts.Sc. degree (Arts & Science Program, McMaster University), an LL.B. degree (Osgoode Hall Law School, York University), and an LL.M. degree (Faculty of Law, University of Ottawa). He worked with the Canadian government for 14 years, with specialization in international tax law, but as his fascination with the night sky grew, he launched a career as an artist, curator, and founder of a contemporary art gallery. Sivarulrasa began observing the night sky with telescopes 15 years ago, travelling to dark skies in Ontario and Quebec for visual observations and photographic work. He sees the pristine night sky as a meditative space that fosters awareness and creativity.
A former member of the Royal Astronomical Society of Canada, he was named "Observer of the Year" by its Ottawa Centre in 2010. His first solo exhibition The Still of Night was presented by the Cube Gallery in Ottawa in 2011. His solo exhibition Night Light was presented by the City of Ottawa at the Karsh-Masson Gallery in 2013. Sivarulrasa published his book Vanishing Stars: Unravelling the Appropriation of Art by Science in 2013. An active advocate of the arts, he has served on the Board of Directors of Canadian Artists' Representation / Le Front des artistes Canadiens (CARFAC National), the music school Ottawa Suzuki Strings, and the Mississippi Valley Textile Museum. Since launching Sivarulrasa Gallery in Almonte in 2014, he has curated several exhibitions showcasing the works of contemporary Canadian artists from Eastern Ontario and beyond.
Contact the Gallery to inquire about the works below. View full Catalogue. For shipping inquiries please see our Shipping Policy.