Sivarulrasa Gallery launches Culture22 – exclusive soirées of music, lectures, and poetry in our exquisite art gallery setting!

When/Where: See schedule below for selected Saturday evenings, 730pm to 9pm, at Sivarulrasa Gallery, 34 Mill St, Almonte.
Tickets: Only 22 seats are available for each performance, and a complimentary coffee, tea & cake reception with the artist(s) will follow. With the limited seating, we aim to create an intimate, exclusive venue to celebrate the arts. To purchase tickets, email us or call the Gallery at 613-256-8033. Please join our notification list to receive early notification of future events.
---
KATHLYN STEVENS (violin soloist): Saturday Aug 26, 2017, 730pm-9pm
Obsession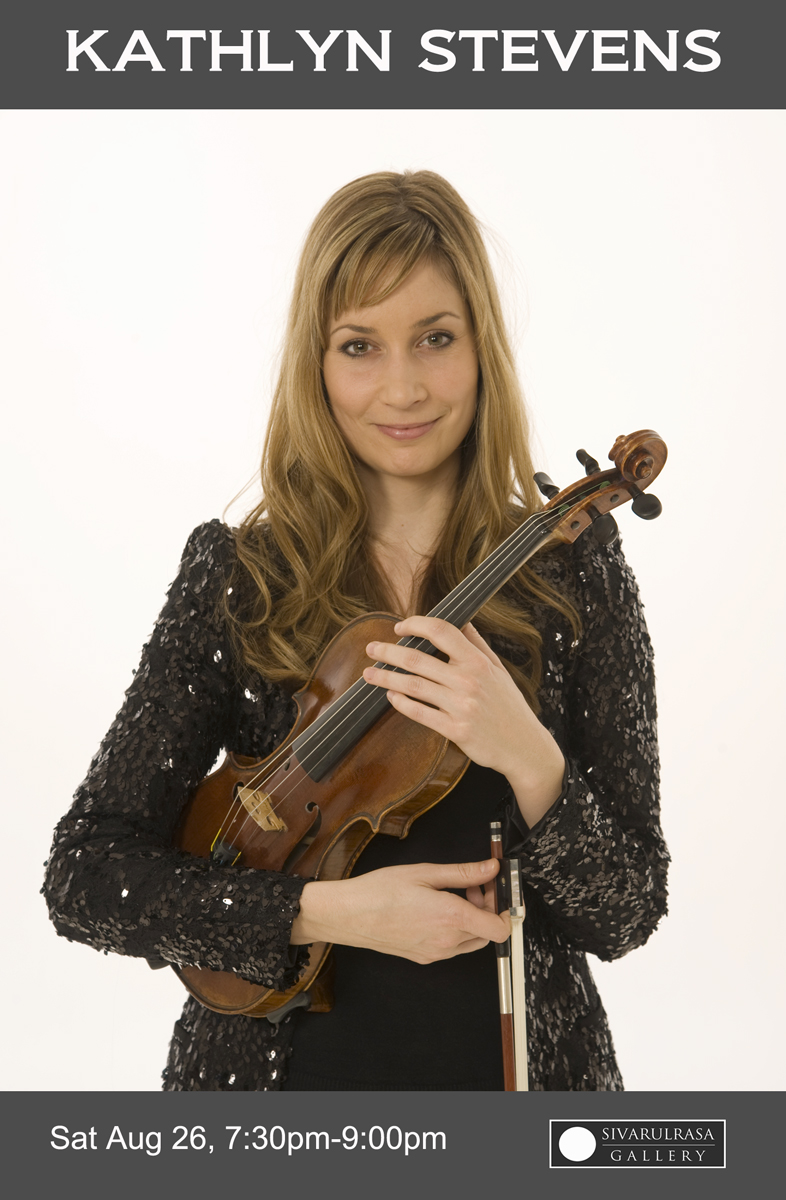 This event is SOLD OUT. Please join our notification list to receive early notification of future events.
Doors open 7:15pm. A reception with the artist will follow the performance.
Born in Almonte, Ontario, Kathlyn Stevens currently serves as Assistant Concertmaster with the Thunder Bay Symphony Orchestra. On Aug 26, 2017 she returns to her hometown with Obsession, a captivating violin solo program at Sivarulrasa Gallery, featuring works by J.S. Bach, Georg Philip Telemann, Heinrich Ignaz Franz Biber, and Eugene Ysäye.
Kathlyn Stevens holds a Performance Diploma from the Mount Royal Conservatory as well as a Bachelor of Music and Artist Diploma from the Glenn Gould School of the Royal Conservatory of Music. She graduated in 2009 with her MMUS from the University of Ottawa. Her teachers have included William Van der Sloot, Lorand Fenyves, Erika Raum and David Stewart.
She has performed with the Canadian Opera Company, the National Arts Centre and the Winnipeg Symphony. She has played with Ottawa's premier chamber orchestra, the Thirteen Strings. She also performs regularly with Consortium Aurora Borealis as well as the Martin Blanchet Jazz Quintet.
---
EMILI LOSIER (soprano) & DANIEL RAMJATTAN (guitar): Saturday May 27, 2017, 730pm-9pm 
Four Centuries of Love and Longing
Sivarulrasa Gallery is pleased to present Four Centuries of Love and Longing, a classical music concert with voice and guitar. This evening of art song and arias showcases a dynamic set of pieces, arranged and composed for guitar and the soprano voice. It includes works by many great composers, including Purcell, Schubert, Grieg, Faure, De Falla and Argento.
Love has always been a great inspiration to artists and this program delves into the many ways love manifests in our lives, whether through the calmness it instills, the frenzy of a burning passion, the loyalty of devotion, or the emptiness of betrayal.
About the Artists: Finnish-Canadian soprano Emili Losier began singing as a child with the Royal Conservatory of Music and, after performing her first role as Hodel in The Fiddler on the Roof with the Chilliwack Performing Arts Society, she knew she wanted to be trained as an opera singer. This brought her to Finland, where she completed a Bachelor of Music degree, an Artistic Diploma in Performance and a Master's degree in Opera from the Sibelius Academy in Helsinki, Finland. She continues to give solo concerts and works with orchestras in Canada and Finland.
Daniel Ramjattan began performing the guitar when he was ten years old in Stratford, Ontario. He has performed in many concert venues in Canada and the U.S. He has won several prizes and awards, and placed as a finalist in many national and international competitions, including 2nd place in the 2016 FCMF National Music Competition, held in Edmonton, Alberta. He holds a Master's degree and a Bachelor of Music degree in classical guitar performance from the University of Ottawa. He will be pursuing a Doctor of Musical Arts degree at the University of Toronto in Fall 2017.
---
ADAM CICCHILLITTI: Saturday April 15, 2017: 730pm-9pm
Through time and space: A portrait for guitar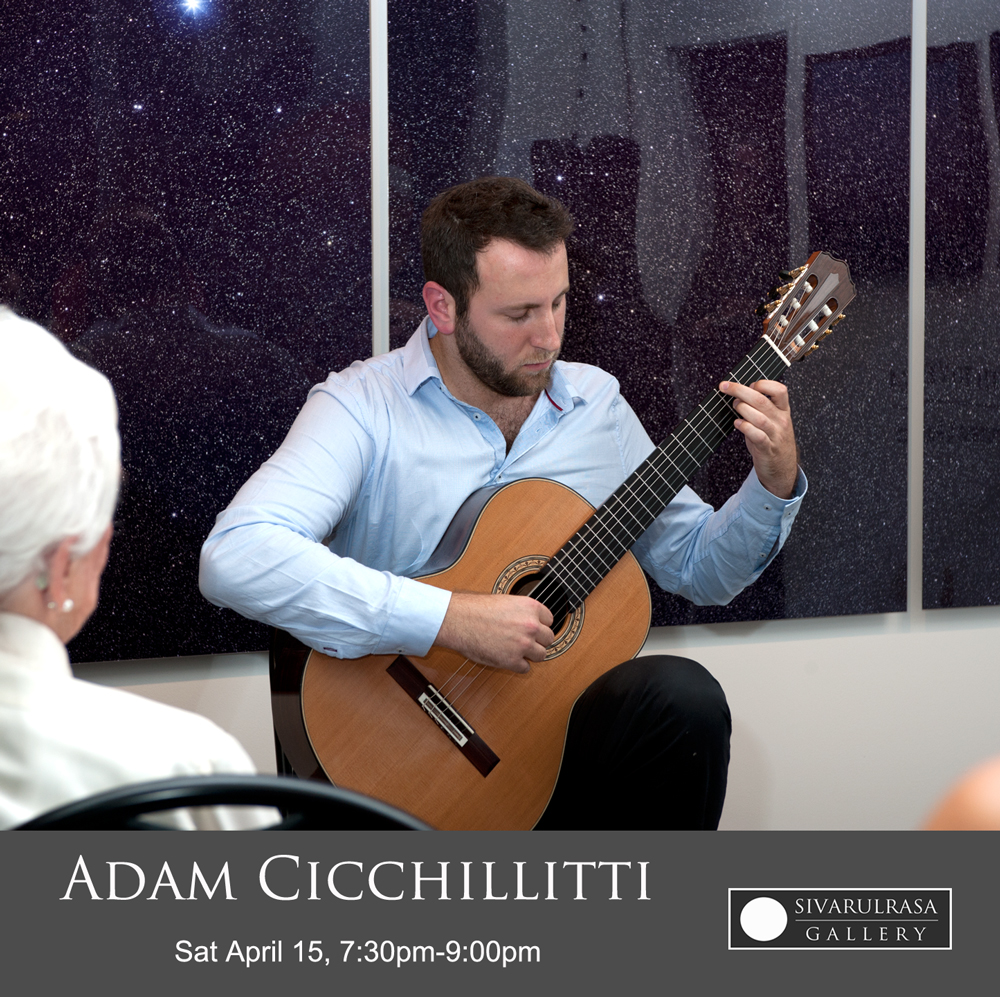 Adam Cicchillitti mesmerizes with a repertoire spanning over 300 years of music, from Bach and Scarlatti to the nationalist folk music of Spain, to his own compositions, and culminating with modern North American works that continue to push the boundaries of the instrument.
Doors open at 715pm/performance starts at 730pm/coffee, tea & cake reception with the artist will follow.
About the artist: Originally from Montreal, classical guitar soloist Adam Cicchillitti's competition successes have placed him on concert stages across Canada and the United States. Adam has performed as a featured soloist at Ottawa's premier guitar event Guitare Alla Grande and at several of Eastern Canada's prominent concert halls. Most recently in 2016, Adam and baritone Philippe Courchesne-Leboeuf toured the Canadian east coast with les Jeunesses Musicales Canada.