Barbara Gamble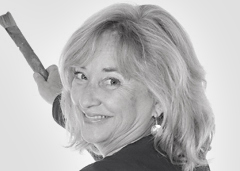 From urban to wilderness settings, the Canadian landscape has been a constant subject in Barbara Gamble's work. Born in Ontario, she grew up in Canada's Maritime provinces, lived in the US and Europe, and settled in Ottawa. Her paintings have been exhibited extensively in galleries and in municipal, provincial, and national institutions. A passionate advocate for the arts, Barbara has also served in many volunteer positions in the cultural sector, including positions on the board of directors of the Ottawa Art Gallery, CARFAC National, and the Enriched Bread Artists.
Refined over three decades, Barbara's oil painting process involves the multi-layering of coloured waxes to create luminous surfaces. "This method of working allows me to capture the essence of light that forms and shapes my subjects," she says. Her paintings are in many private and public collections, including the Canadian Museum of Nature, the Ottawa Art Gallery, the City of Ottawa, and numerous corporate collections.
Barbara Gamble's work was featured in a duo exhibition BACKLANDS at Sivarulrasa Gallery from Sept 1 to Oct 8, 2017.