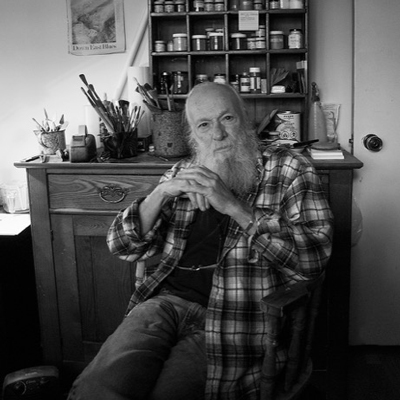 Born in Toronto, Douglas Bernhardt moved to Ottawa in 1973 and studied part-time at the Ottawa School of Art. He began a decades-long career in sign-writing and graphic arts, becoming a specialist in woodcarving and the gilding arts, using gold leaf and other alloys to decorate commercial signs.
As a painter, he first began working with watercolours in 1987. "My goal in painting is to make concrete an inner thought, idea, or emotion and impart these to the viewer as a universal experience", he says. His most recent works are executed in egg tempera and oils, relying on the meticulous techniques used by the old masters and the early renaissance period.
Douglas Bernhardt's compositions are invented scenes based on ideas or concepts that have percolated in his mind for years or even decades. His works evoke questions, tension, and sometimes unease. The characters in his paintings are often people he has met, and the locations depicted are places he has lived in or visited. He sees himself as a silent witness or observer in each work, leaving the viewer to decipher its meaning. He continues to paint from his studio in Ottawa.
See more works by Douglas Bernhardt on our Virtual Gallery