An installation in Gallery II, November 10 – December 22, 2023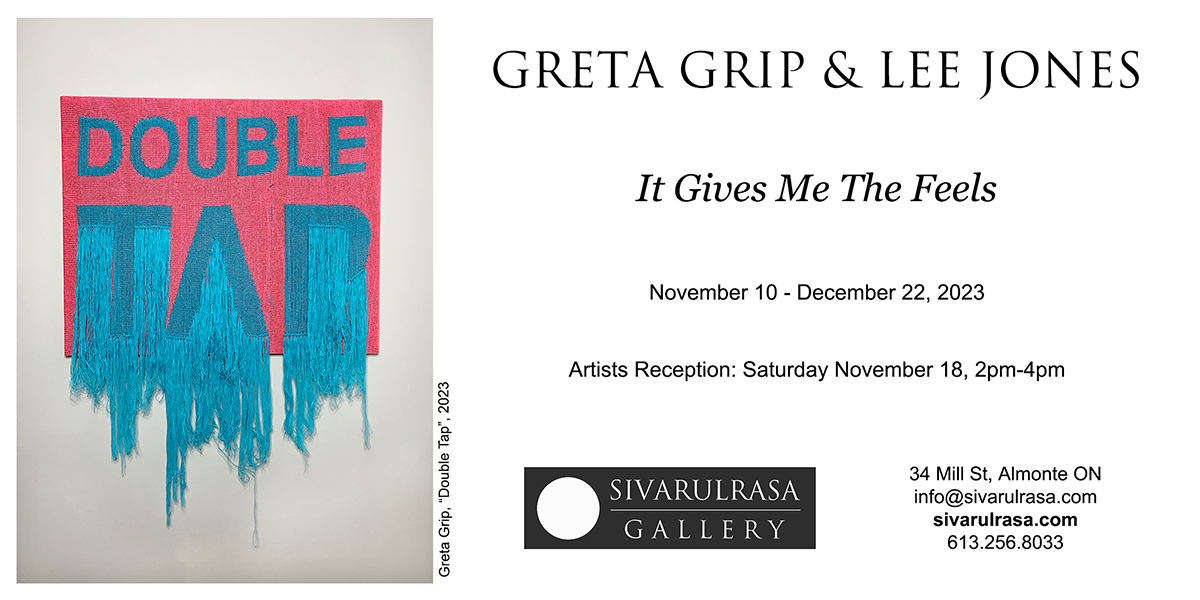 Reception/Meet the Artists: Saturday November 18, 2pm-4pm
From November 10 to December 22, Sivarulrasa Gallery is pleased to present GRETA GRIP & LEE JONES: IT GIVES ME THE FEELS in Gallery II. For this interactive installation, Greta Grip and Lee Jones have developed textile artworks that respond and unravel with human presence.
Three of the works are what the artists call an "interactive performance" where the viewer is the audience as well as the performer. "We want to create a moment of tension as people start to realize that their presence is unraveling the work," they note. "For works with manual manipulation, the viewer will be able to actively take the works apart." The installation includes a knitting machine The Life of a Party and an Unraveling machine, both created by Lee Jones, that are triggered by sensors when a viewer is present.
Artist Greta Grip enjoys pulling the strings of what is traditional knitting and winding it around the digital age. Her work challenges our understanding of what knitting is supposed to look like. Lee Jones is a postdoctoral fellow with the iStudio Lab at Queen's University. Before joining the lab, she completed her PhD at the Creative Interactions Lab at Carleton University, where her thesis focused on e-textiles, hybrid craft, and textile personal fabrication.
Reception/Meet the Artists: Saturday November 18, 2pm-4pm. Greta Grip and Lee Jones will be in attendance.

Contact the Gallery: Call 613-256-8033 or email [email protected] for queries about the works below, or visit our Virtual Gallery.