An exhibition in Gallery III, May 12 – June 23, 2023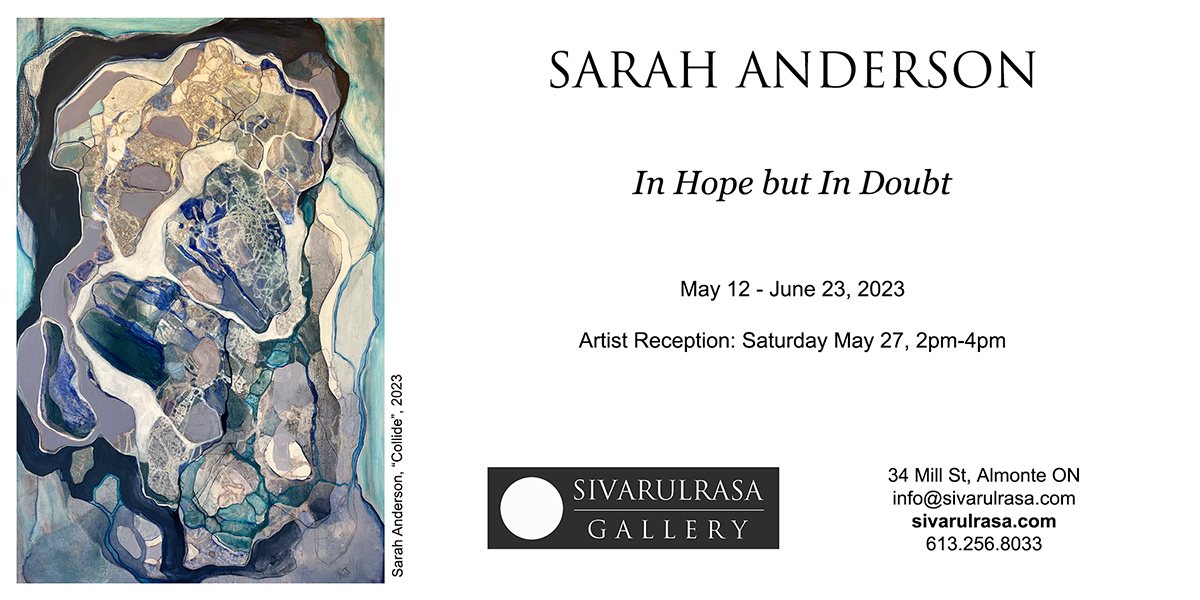 Reception/Meet the Artist: Saturday May 27, 2pm-4pm
From May 12 to June 23, Sivarulrasa Gallery is pleased to present Sarah Anderson: In Hope but In Doubt. The title of the show comes from the song 'Then Again' by the band Half Moon Run. Sarah Anderson sees colour as a powerful tool for the expression of emotion. Her paintings are deeply influenced by personal experiences, most commonly by themes of family and challenges attributed to reconciling relationships. She earned her Bachelor of Fine Arts degree from the University of Ottawa in 2002. Her studio practice is based at the Enriched Bread Artists (EBA) studios in Ottawa.
Artist Statement by Sarah Anderson
We hope. We doubt. The doubt often outweighs the hope. The title of the show 'In Hope but In Doubt' comes from the song 'Then Again' by Half Moon Run. The lyric that follows is 'that it will get easier'. Of course, we hope that things will get easier but instead they shift and morph. Yesterday's worries are replaced supplanted by new concerns. This is a never-ending cycle with parenting teenage children. All the hopes and doubts that I felt at those same ages resurface and are absorbed into daily life once again. 
I only hope that I can truly make them believe 'that it will get easier'. 
As in my past works, my haphazard pouring of paint onto textiles such as burlap and thread create grids and lines that I attempt to link and control with my mark-making. There is a dichotomy to the process – one act is very fluid and uncontrolled, whereas my application of mixed media afterwards is very deliberate and intentional.
Reception/Meet the Artist: Saturday May 27, 2pm-4pm. Artist Sarah Anderson will be in attendance.
Special Feature: Sarah Anderson will be in the Gallery painting a work-in-progress on Saturday May 13, 1pm-4pm and Saturday June 3, 1pm-4pm – drop by to see her technique & process!

Call us at 613-256-8033 or email [email protected] for queries about the works below, or visit our Virtual Gallery under "New Arrivals: Gallery III".