Sivarulrasa Gallery Outreach – leveraging the power of art

At Sivarulrasa Gallery, we believe that art has the power to connect people and strengthen communities. Our outreach efforts are aimed at leveraging the power of art to bring people together, creating beautiful synergies with like-minded businesses and other community and cultural organizations.
---
MIX & MINGLE in support of United Way Lanark County! Wed Nov 21, 6pm-830pm at Sivarulrasa Gallery, 34 Mill St, Almonte ON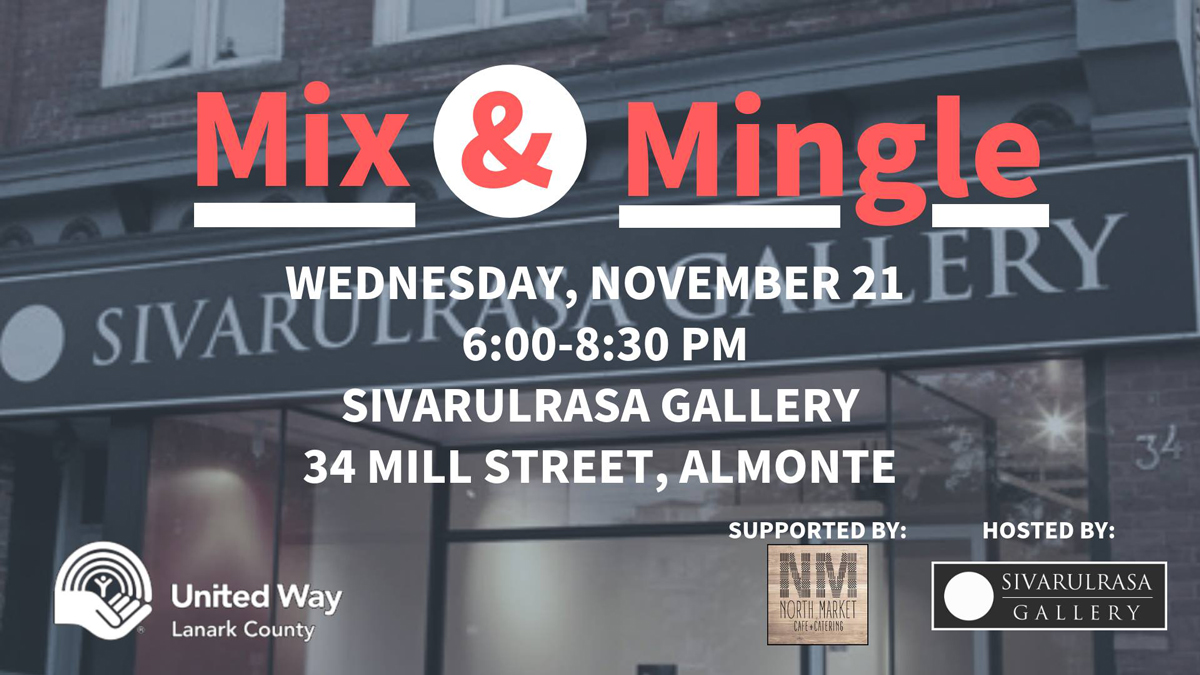 On Wednesday November 21, 2018, Sivarulrasa Gallery is pleased to host United Way Lanark County's Mix & Mingle: Fall Social.  Experience the beautiful art housed in the gallery as you enjoy an exquisite night of mixing, mingling and changing lives. Did we mention there will be delectable food prepared by North Market Café & Catering, beverages, music and inspiring guest speakers?  Well, there will be!
Come to hear about a new Family Reconnect Program from Lanark County Community Justice for youth – Sarah Bingham will provide an overview of this new program that they are trying to bring to Lanark County & Smiths Falls. David Somppi, Chair of the Steering Committee for the Planet Youth Lanark County Project will talk about their exciting plans and the upcoming Town Halls featuring Professor Alfgeir Kristjansson from Iceland.  Gallery owner Sanjeev Sivarulrasa will talk about how he assists new young artists as they start their career.
Proceeds from this event will support United Way's Focus Area: All That Kids Can Be and our effort to create possibility in the lives of children in our community. Please join us in supporting this important cause.
Tickets: $15, available on Eventbrite or by calling the United Way at 613-253-9074.
---
INDULGE YOUR SENSES! Saturday May 26, 2018, 4pm-7pm at Sivarulrasa Gallery, 34 Mill St, Almonte ON
An elegant fundraiser evening in support of the Almonte General Hospital
On Saturday May 26, 2018, 4pm-7pm, Sivarulrasa Gallery will host an elegant fundraiser evening entitled Indulge Your Senses to benefit the Almonte General Hospital – Fairview Manor Foundation's ongoing campaign to raise money for diagnostic equipment. The evening will feature fine art, light food and wine in the Gallery's exquisite contemporary art setting. We are delighted to serve fine chocolates from Almonte's award-winning Hummingbird Chocolate Maker, delectable cakes from Angela Hui Custom Cakes & Fine Pastries, a fine selection of Quebec and Ontario cheeses from Almonte's Pêches & Poivre, and a selection of hors d'oeuvres by Almonte's North Market Catering. A live jazz duo, the Somerset Combo, featuring local favourites Ric Denis on guitar and Tony Stuart on clarinet will provide lively atmospheric and classic jazz music. The gallery's ongoing spring-themed exhibition Equinox featuring works by artists Sarah Anderson, Carly Belford, and Jane Irwin will be on display.
Attire: Semi-formal or business
Tickets: $80 per person, with a $50 tax donation receipt. Only 50 tickets are available – to reserve, please call the Gallery at 613-256-8033 or email us. All ticket proceeds go to the AGH-FVM Foundation. Costs for music, food, wine, space and marketing are donated by Sivarulrasa Gallery.

---
SOLAR ECLIPSE PARTY on MILL STREET! Monday Aug 21, 2017, Noon-4pm on Mill Street, Almonte ON

Our Solar Eclipse Party on Mill Street, jointly presented by Sivarulrasa Gallery and the Town of Mississippi Mills, in the empty lot across from the Gallery, brought together local stargazers with solar-filter-equipped telescopes, local musicians, Almonte businesses, and an estimated 800-1000 enthusiastic people to enjoy the partial solar eclipse of August 21, 2017. Our group exhibition Eclipse, featuring works by artists Deborah Arnold, Dale Dunning, Susan Low-Beer, Marina Malvada, and Sanjeev Sivarulrasa was ongoing at the Gallery at that time.
---
Sivarulrasa Gallery is pleased to serve as a sponsor, or to partner with, the following community and cultural organizations.