Caroline Ji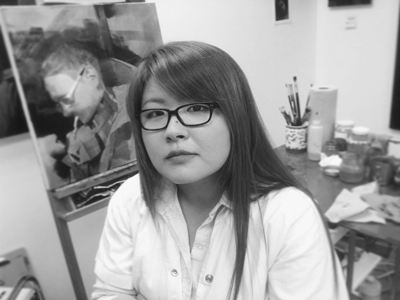 Born 1988 in China, Caroline Ji is a Canadian oil painter currently based in Toronto. "My paintings are about solitude", she notes, "they are the reflection of time spent alone and the introspection one is susceptible to when we're free of having to interact with outside influences." Her paintings are evocative and intimate depictions of people she has met, re-lived conversations, and memories. With a striking colour palette and careful attention to lighting choices, mood and atmosphere become the storytellers in her paintings. The works are open to interpretation, inviting viewers to attach their own narratives to each work.
Originally trained as an engineer, Caroline Ji received her BASc in Electrical Engineering from the University of Waterloo in 2012 before devoting herself full-time to her studio practice. Her paintings are held in private collections in Canada, the United States, Europe, and Hong Kong. Her work has been exhibited in Toronto, Ottawa, and Chicago.
Caroline Ji's work was featured in our trio show FIGURE, from February 8 to March 24, 2019.