Mary Wong, Coming up for air

A solo exhibition, Oct 14 to Nov 20, 2016 – our inaugural show in our new space!

Curated by: Sanjeev Sivarulrasa
From Oct 14 to Nov 20, Sivarulrasa Gallery presents Coming up for air, a solo show featuring 15 breathtaking paintings in oil by Toronto-based artist Mary Wong, including 12 new works being exhibited for the first time. Mary Wong uses abstractions of the natural landscape to explore psychological and emotional states. Turbulent skies, water streaming over rocks, and intense sunsets all serve as metaphors for the beauty and anguish of the human experience. Visually stunning, with an immersive, dream-like quality, each painting presents a world unto itself, inviting reflection on human fragility, hope, and perseverance. The works are powerful yet nuanced, highly emotive yet open to interpretation. With delicate brushwork and a bold palette knife, Coming up for air confirms Mary Wong's mastery of her medium.
Mary Wong holds an Honours BA from the University of Waterloo with specialization in painting and sculpture. Over the past 10 years, her work has been exhibited in group and solo exhibitions in Toronto, Ottawa, Kitchener-Waterloo, Montreal, and Halifax. Born in Hamilton, Ontario, she currently works from her studio in Toronto's historic Distillery District.
Sunday Oct 16, 2pm-5pm – Vernissage/Meet the Artist + Grand Opening: Join us to celebrate the opening of this show and witness the unveiling of our new expanded gallery space in the heart of historic Almonte, Ontario. In mid-October, Sivarulrasa Gallery will relocate to 34 Mill St — join us at 2pm on Oct 16 for the official ribbon-cutting with Mississippi Mills Mayor Shaun McLaughlin!
For the latest updates, visit the Gallery on Facebook and Twitter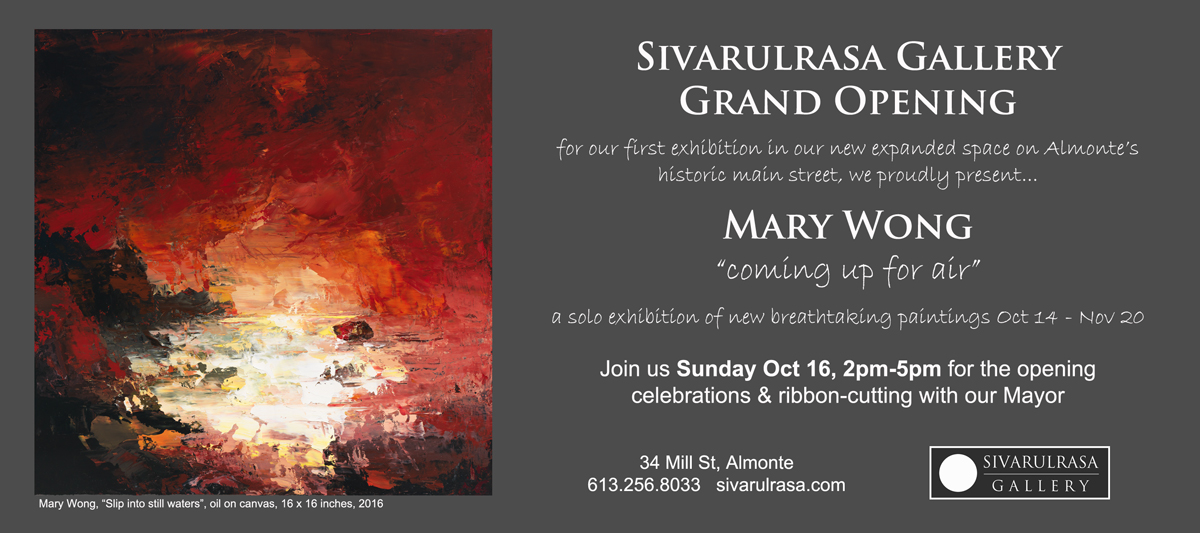 Photos from the Vernissage/Grand Opening (courtesy Raymond Dubois)